Blessing Flags
Hanging blessing flags to celebrate or support big events in our lives is a beautiful way to bring color, community and heartfelt prayer into these moments. It is a unique community connecting activity and gift with roots in an ancient culture.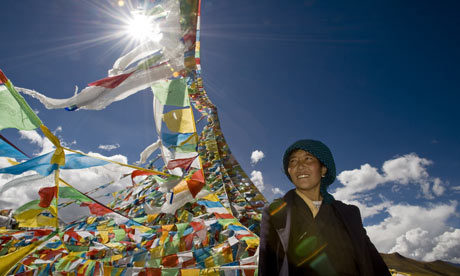 The tradition of hanging prayer flags comes originally from a mixture of Bon shamanism and Tibetan Buddhism. The two together create a practice aimed at the recognition of the 5 elements and a spreading of Buddha Dharma, or good wishes for the benefit of all beings. The belief is that by hanging these squares of fabric, decorated in sacred images and words, the wind and sun passing through and moving them would continually activate the prayers and goodwill for all.
Traditionally Tibetan prayer flags are hung to mark special occasions such as weddings, birthdays, marriages, new ventures, housewarmings or get-well wishes. Most importantly they are hung with intention and respect in a place where the elements and breezes will touch them and thus carry our prayers to places we cannot go. When the ink has faded and the cloth become frayed the flags are respectfully burnt, rather than putting into the rubbish bin, and then replaced with new prayers. In this way, people have a constant reminder and activation of their prayers and goodwill wishes.
Our Blessing Flag kits are designed for you and your loved ones to create personally significant images and prayers of goodwill to hang and activate in your space. With invitations and envelopes included in the kit, as well as helpful suggestions and links to this site, it's easy for you to include the special people in your life who live far away, and to have their creations in your home completing your Blessing Circle.
We suggest that if you do not plan to keep them as a keepsake, that you ensure they've had some time outside in the weather, and then carry out a burning ceremony giving thanks and gratitude for the love and support they have represented.
You can find more information on the contents of our kits at the Online Shop
var _gaq = _gaq || []; _gaq.push(['_setAccount', 'UA-39682174-1']); _gaq.push(['_trackPageview']);
(function() { var ga = document.createElement('script'); ga.type = 'text/javascript'; ga.async = true; ga.src = ('https:' == document.location.protocol ? 'https://ssl' : 'http://www') + '.google-analytics.com/ga.js'; var s = document.getElementsByTagName('script')[0]; s.parentNode.insertBefore(ga, s); })();